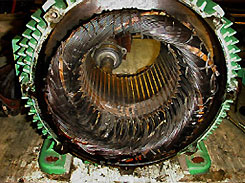 We aim to provide in the near future almost all the services that would be expected by an industrial in Algeria and so to be released of all constraints maintenance, and it will remain at its production plant only irreplaceable and indispensable specific workshops.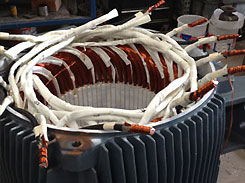 We give us a first challenge like one to take charge, initially, in repair and renovation of electric motors.
The mastery of technology and the know-how in the field, associated with the provision of inputs from our own supply network, make us confident to offer at our clients, qualities of repair guarantees, a very short time, safeguarding their production tools and their programmed workload.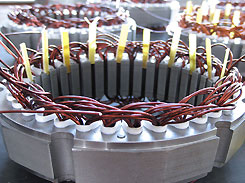 Our workshops for low voltage or medium voltage motors are equipped with spool production equipment and with control apparatus which gives a successful renovation of electric motors with the advantages of new equipment for this one renovated.
Contact us for your specific needs. We will be proud to put our knowledge to achieve your projects.

All diameters of high quality of round enameled copper wires which meet the most stringent standards, are available.

Our flexible insulation products meet safety standards for their suitability for voltages of several kV use.