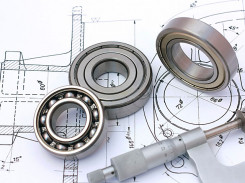 Our two flagship brands are TIMKEN and NSK
TIMKEN serves a wide range of industries through three divisions
Automotive Division
Industry Division
Steel Division.
Thanks to its experience, technical centers and design offices in North America, Europe and Asia, TIMKEN has more than 80 manufacturing facilities in 29 countries on 5 continents, in meet the overall needs of customers.
After the buyout of factories TORRINGTON, NADELLA and FAFNIR, TIMKEN became the leader in all ranges of bearings, and not only in conical roller bearing which was its special topic.
TIMKEN emphasizes also on the training and offers its customers continuous training.
TIMKEN offer a wide range of training means, including training that can be tailored to your specific needs and delivered on site. Where no standard training program exists to suit your needs, TIMKEN have a network of experts in friction management and power transmissions around the world who can be called on to provide their expertise.
The main features of our second flagship brand NSK are the following:
NSK has over 80 years of experience in development and manufacture of bearings with a low coefficient of friction, particularly suitable for low noise applications, such as electric motors. Research laboratories and high technology plants used in Japan particularly; make NSK bearings ideal for use in harsh conditions and environments thanks to the steel grades used , to the ball cage waterproofing of high performance.
The manufacture of bearings for the food and paper industries has made NSK a key partner which has developed innovative methods and new designs to provide high quality bearings for high speed and long life.
Furthermore NSK is also one of the world's leaders in technologies for linear guides.
Being one of the world's leaders in manufacturing of bearings, technology of linear displacement, automotive components and steering systems, we offer standard or specific products for all the sectors of industry.
Our product ranges include balls, conical, cylindrical and spherical rollers bearings, trust bearing, needle bearings, hubs of wheel and steering column for automotive industry.
Our Partners
Contact us for your specific needs. We will be proud to put our knowledge to achieve your projects.

All diameters of high quality of round enameled copper wires which meet the most stringent standards, are available.

Our flexible insulation products meet safety standards for their suitability for voltages of several kV use.